If you asked a dozen parents right now what their favorite children's show is, the majority of them would probably mention Bluey. This animated series is blowing up in popularity thanks to the memorable characters and positive themes. Plus, it's enjoyable for both kids and adults, unlike some of the other television aimed at young viewers.
It may seem strange to compare a contemporary cartoon about a dog to the legendary sitcom Seinfeld from the '90s. But it turns out Bluey and Seinfeld have more in common than television viewers realize.
'Bluey' became a smash hit on Disney+
Kids and parents just can't get enough of Bluey, the animated short from Australia. The series depicts life for a 6-year-old Blue Heeler pup named Bluey and her family, including her mom Chili, dad Bandit, and younger sister Bingo.
The premise sounds just like any other kids show. But viewers know that Bluey offers something special, including themes that go beyond the typical cartoon. The characters play pretend all the time and even simple games become fun and exciting. Gender norms are out the window and the parents are always engaging with their kids.
It also helps that the episodes are very short and easy to watch. No wonder Bluey won the International Emmy Kids Award.
'Bluey' is a show about nothing, just like 'Seinfeld'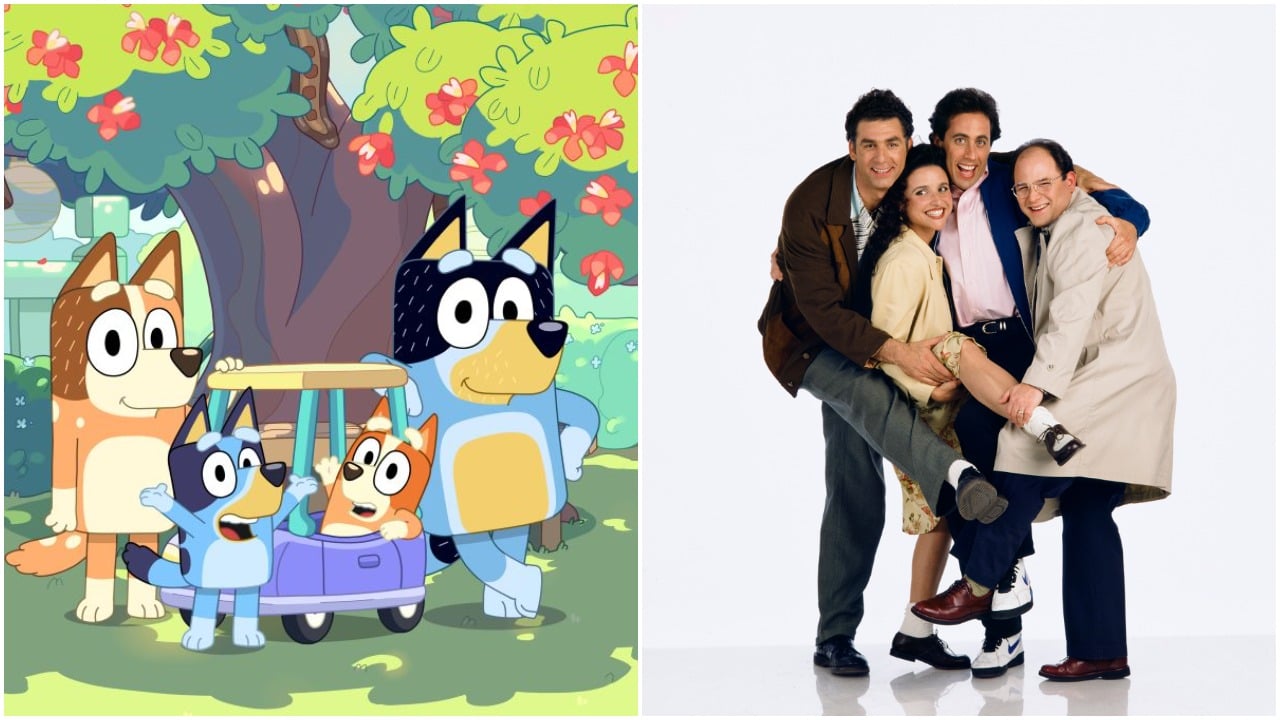 Bluey is heartfelt while Seinfeld was bitter and sarcastic. But the brilliant thing detail these shows both had in common was exploring very simple concepts and presenting them in a unique and interesting way. You'll never find complicated storylines on either show, and fans love them all the more for it.
Jerry Seinfeld always rejected the claim that his comedy was a show about nothing. However, based on the success of the series, it was actually a compliment to describe it that way. It's infinitely harder for writers to create intrigue from basic everyday situations. Somehow Seinfeld and Bluey are both more interesting thanks to their lack of complex storylines.
The beauty of 'Bluey' comes from simple messaging
'Seinfeld': Larry David Threatened to Quit Over the Iconic 'Chinese Restaurant' Episode
One of the most popular episodes of Bluey is called "Keepy Uppy" and revolves around the family attempting to keep a balloon from touching the floor. It's a game most people have played at some point but doesn't seem substantial enough to merit an entire episode. Yet on Bluey, this storyline is mesmerizing, exciting, and hilarious.
Writers on Seinfeld tackled the same types of topics. One of the best episodes, which co-creator Larry David threatened to quit over, was all about the four friends waiting for a table at a Chinese restaurant. It's a similar idea in that it doesn't appear to be enough content to support a full episode. But the unique angle made this episode memorable and funny. Seinfeld fans adored it and even now it remains one of the best-known on the series.
At first glance, Seinfeld and Bluey don't have any similarities. But these two popular shows share the most important element of all: fans cannot get enough of them.